Published by Enaam Siam on April 4, 2023 | Last updated on May 15, 2023
If you're tired of spending hours mopping your floors only to find that they're still dirty, then it's time to invest in a Floor Police Mop. With so many different options on the market, It can be hard to know which one to choose.
In this CleanersAdvisor guide, we'll be providing you with an in-depth review of the best Floor Police Mops available. We'll be covering everything from the features and benefits of each mop to their ease of use and overall effectiveness.
Mopping floors can be a tedious and time-consuming task, especially if you have a large area to clean. That's where the Floor Police Mop comes in. Designed to make cleaning floors quicker and easier, these mops are perfect for both home and commercial use.
So, whether you're looking for a new mop for your home or business, read on Floor Police Mop Reviews to find out everything you need to know!
Visit our CleanersAdvisor guide, to read more about Quick & Easy Steps on How to Clean Mop Head Properly?, 9 Best Heavy Duty Mop Models on 2023 Market, List of the Best Commercial Mop Models for Home and Hizero Bionic Mop: 2023 Detailed Review.
---
What is a Floor Police Mop?
A Floor Police Mop is a cleaning tool designed to make mopping floors easier and more efficient. These mops are often used in commercial settings, such as restaurants and hospitals, but they're also popular in homes. They're designed to be easy to use, with features such as adjustable handles and replaceable mop heads. Most Floor Police Mops also come with a cleaning solution that's specifically designed for use with the mop.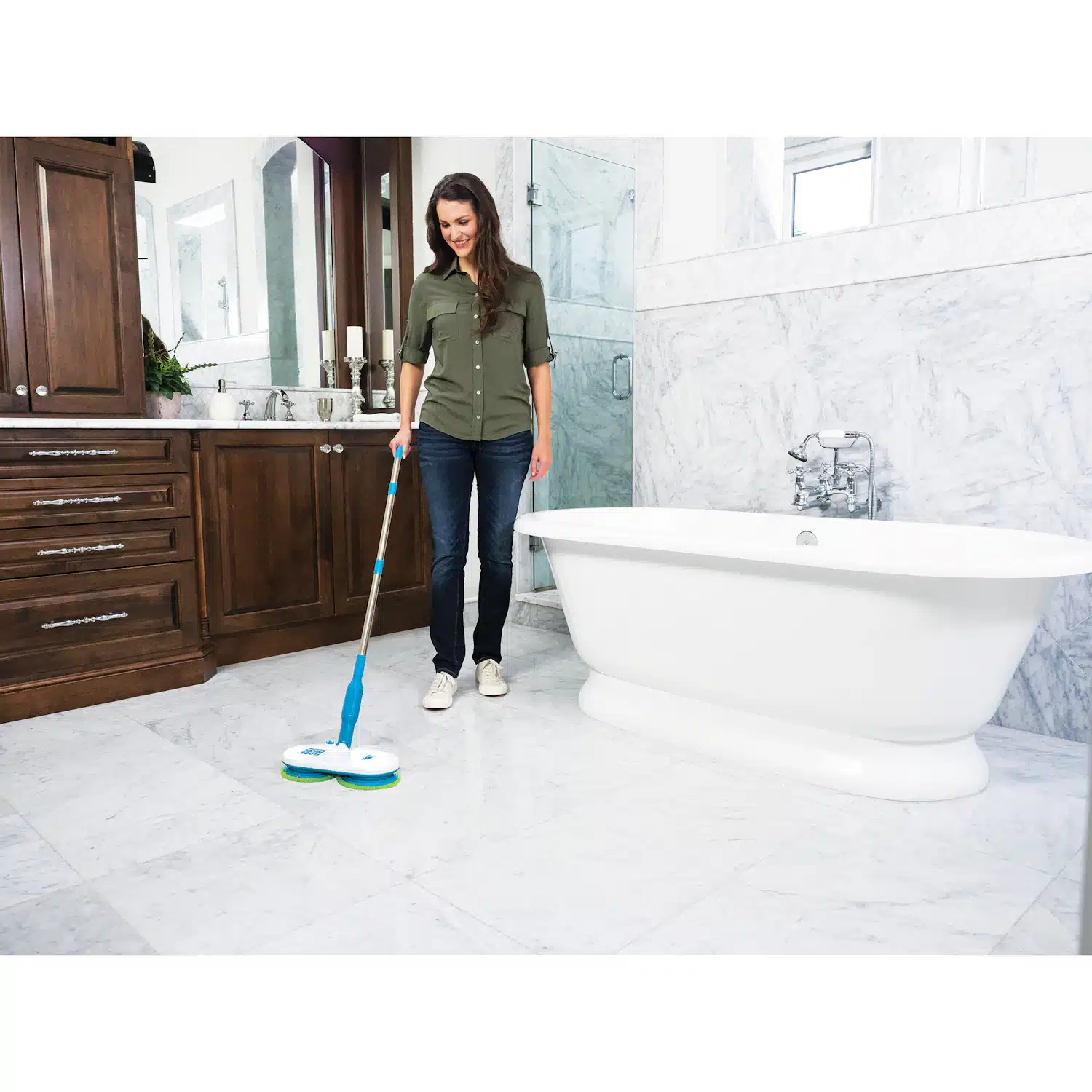 ---
Why Do You Need a Floor Police Mop?
Benefits of Using the Floor Police Mop
Here are some of the key benefits of using the Floor Police Mop:
Effortless Cleaning: The Floor Police Mop is designed to make floor cleaning effortless. Its lightweight design and flexible mop head make it easy to maneuver around furniture and other obstacles.
Superior Cleaning Power: The microfiber mop head of the Floor Police Mop can effectively trap dirt and dust, leaving your floors spotless.
Cost-Effective: Unlike disposable mop heads, the mop head of the Floor Police Mop is machine washable, making it a cost-effective option for long-term use.
Environmentally Friendly: The Floor Police Mop is an environmentally friendly option for floor cleaning. It doesn't require any harsh chemicals or cleaning agents, making it a safe and natural option for your home or office.
---
Features to Look for in a Floor Police Mop
When choosing a Floor Police Mop, there are several features you should consider. These include the size and shape of the mop head, the material of the mop head, the handle length and material, and the type of cleaning solution used.
Material of Mop Head
The material of the mop head will determine how well it cleans your floors. Microfiber mop heads are popular, as they're able to trap dirt and grime effectively. However, some people prefer cotton mop heads, as they're more absorbent.
Handle Length and Material
The handle length and material will determine how easy it is to use the mop. A longer handle might be more comfortable to use if you're tall, as you won't have to bend over as much. The material of the handle can also make a difference- some people prefer plastic handles, while others prefer metal.
Type of Cleaning Solution Used
Most Floor Police Mops come with a cleaning solution that's specifically designed to be used with the mop. Some mops require you to add the cleaning solution manually, while others have a built-in dispenser.
It's important to consider the type of cleaning solution used, as some solutions might not be suitable for certain types of flooring.
---
How to Use a Floor Police Mop?
Using the Floor Police Mop is incredibly easy. Here are the steps you need to follow:
Attach the Mop Head: First, attach the mop head to the handle. The mop head should be securely attached to the handle to ensure that it doesn't come loose while you're cleaning.
Wet the Mop Head: Wet the mop head with water or your preferred cleaning solution. Be sure to wring out any excess water so that the mop is damp, but not dripping wet.
Start Cleaning: Begin cleaning your floors by sweeping the mop over the surface. Use long, sweeping motions to pick up dirt and debris. Be sure to overlap your strokes to ensure that you don't miss any spots.
Rinse and Repeat: Rinse the mop head with clean water after each use. If the mop head becomes too dirty, simply remove it and wash it in your washing machine.
---
Tips for Maintaining Floor Police Mop
To ensure that your Floor Police Mop lasts as long as possible, there are a few tips you should follow.
Make sure to rinse the mop head thoroughly after each use, this will help to remove any dirt or grime that might be trapped in the fibers.
Hang the mop up to dry after each use, as leaving it damp can cause bacteria to grow.
Ensure to replace the mop head regularly, as worn-out mop heads will be less effective at cleaning floors.
---
Floor Police Mop
Now that we've covered the key features to look for in a Floor Police Mop, let's take a look at Floor Police Cordless Electric Mop.
Floor Police Cordless Electric Mop, As Seen On TV, Self-Propelling Hardwood and Tile Floor Cleaner with Dual Spinning Mop Heads, One Mop with 6 Cleaning Pads
Features
Motorized Floor Cleaning System: Includes one electric mop, one full length pole, two microfiber mop pads, two scrubber pads and two polishing pads
Double the Cleaning Power: Two spinning mop heads with washable replacement mop heads effortlessly clean and sanitize your hardwood and tile floors, plus bathroom cleaning and wall cleaning
Self-Propelling: This lightweight electric mop practically propels itself across your floor, spinning at an incredible 100 RPMs, so you can enjoy clean floors without the effort and strain required when using a standard mop
Great as a Floor Cleaner and Wall Cleaner: Includes microfiber cleaning pads to loosen, lift and trap dirt, scrubber pads to remove sticky messes, and polishing pads to return the sparkle to any surface without expensive cleaning supplies
Cordless Rechargeable Spin Mop: Cordless mop lets you move from room to room for household cleaning made simple, from wall cleaning to bathroom cleaning; simply recharge the lithium-ion battery for up to 90 minutes of convenient cleaning
---
Floor Police Mop Reviews
Our CleanersAdvisor experts have gathered several Floor Police Mop Reviews from different online markets and here are what people think about it. Darlene Virtue, Jamey, Doodle, Debra, Julie Rice, and Denise are some of the users who wrote their real experiences of owning Floor Police Mop.
Darlene Virtue: I bought for my aunt and Uncle who are in their eighties, and they love it. My uncle said it moves on its own and he does not have to push it around like a regular mop. This keeps his back from hurting after mopping. It does a great job on cleaning the floor also.
Jamey: These are good replacements for my electric mop. They are good quality and hold up to my hand washing. Will buy more when needed.
Doodle: I dislike mopping, and when I saw this electric mop I knew I had to have it. The mop is so easy to use with minimal effort. It cleans my floors really well. I was so pleased, I bought two more for friends. I would recommend this mop to anyone who needs help with their mopping.
Debra: I love it … I cannot scrub floors on my knees and mops leave to much water on my new flooring. BUT… you have to really push it back and forth, so you do not get round streaks left behind on floor.
Julie Rice: I like this so I can clean my floors without getting someone to help and without giving myself backaches. So glad I bought this. Well worth the money.
Denise: The floor police mop is unbelievable. I wish I had discovered it earlier in life. I use it for high-end engineered hardwood, ceramic kitchen tile and even my old marble bathroom tiles.
I tried the scrubber pads to remove hard water stains on my glass walled shower, and together with cleaning strength vinegar, I was amazed that the glass walls look perfect now after just 10 minutes. It didn't scratch the glass (but I would be cautious to test it on a new bathroom.
My shower is old, so I was less concerned about scratches). I have shoulder injuries and I bought this so I could clean. It was totally worth the money (can't speak to how long it will last yet even if it isn't long lasting I'm happy).
---
Floor Police Mop FAQs
---
Conclusion
The Floor Police Mop is a unique cleaning tool designed to make cleaning floors easier, faster, and more effective. It is a microfiber mop that can be used on any type of floor, including hardwood, tile, laminate, and more. The mop is designed to pick up dirt, dust, and debris with ease, leaving your floors spotless.
If you are looking for a more effective way to clean your floors, then a Floor Police Mop is worth considering. With so many different options available, it's important to choose a mop that suits your specific needs.
Whether you're looking for a large mop for commercial use or a smaller mop for your home, there's sure to be a Floor Polic Mop that's perfect for you.
In this video, Kathy is talking about The Floor Police Mop Reviews, how to use it, how to clean it and how efficient is it! She also clarified how affordable this mop is as you'll never waste money on pads because Floor Police pads are machine washable and reusable.
Enjoy watching!