Published by Hala Zaqqout on May 25, 2022 | Last updated on May 15, 2023
Whether you're a barber or you just have a hair clipper, you know that keeping fresh tools is a vital part of the job.
Don't worry. It might sound like a lot of work right now. Cleaning a hair clipper, on the other hand, isn't difficult. This requires simply some basic pieces of equipment for this.
If you simply want to know how to clean clippers at home or learn how to fully maintain them, this CleanersAdvisor guide is for you.
We've collected the main effective methods of how to clean clippers at home with the main reasons you need to know of why you should clean and care for the clippers.
---
How to Clean Clippers at Home Quickly?
Wondering how to sterilize hair clippers at home? In a nutshell, follow these steps to get clean clippers.
1. Unplug and disconnect the power cable if your clippers are mains operated.
2. Remove any attachments you've been using.
3. Dislodge as much hair and debris from your clippers as possible with a cleaning brush.
4. To avoid cross-contamination, use an anti-bacterial clipper spray to clean any remaining hair.
5. Leave the spray on for as long as is stated on the can before wiping clean.
6. Before using any plastic combs or tapering attachments on your next client, soak them in disinfectant for as long as necessary.
---
Why Is It Important to Clean and Care for Clippers Properly?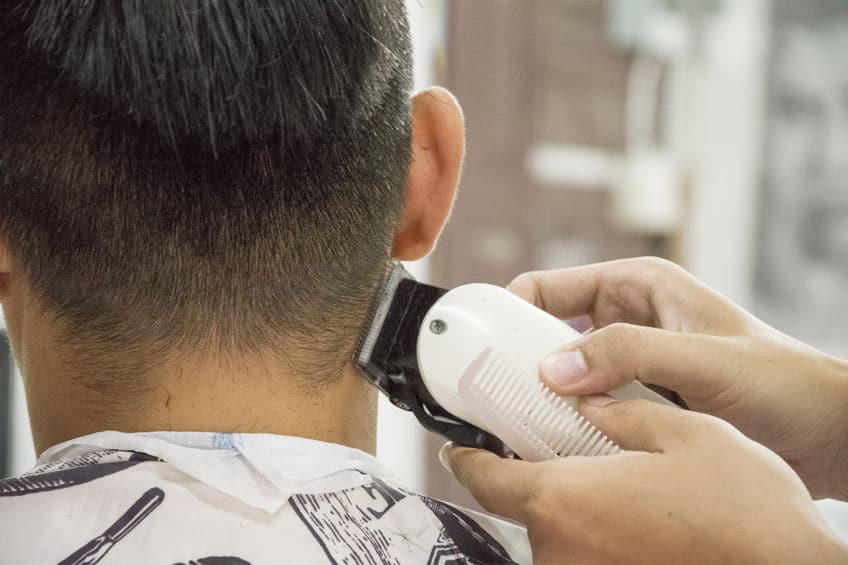 Good clipper maintenance is critical for several reasons:
1. To maintain proper hygiene.
2. To ensure they last as long as possible.
3. To achieve the best possible results.
Dirty clippers can cause a variety of problems. Not only is it highly unhygienic to not clean them, but the build-up of hair, skin, and oils can cause damage over time, requiring more frequent replacement.
---
How to Clean Clippers at Home?
If you want to know how to clean hair clippers at home, follow these clipper maintenance steps to keep them clean.
A. Brush
Brush the blades a few times to get rid of all the hairs. This can be done with any stiff, clean brush. If you still have the brush that came with your clipper set, use it. If you don't have one, feel free to use any clean brush you have on hand.
To remove clumps of hair, simply drag the bristles back and forth on both sides of the blades. You can also use a clean toothbrush or the specialty micro-brush if that's all you've got on hand (1).
B. Soap and Water
A quick clean can be done by rubbing the blade with soapy water. If it's your first cut of the day or you simply need to touch up something, soap and water will help.
Apply a dollop of grease-fighting dish soap to the blade and soak it in warm water. Scrub the soap into the tips of the blades with a brush after rubbing the body of the blade down with your fingers or a cloth.
C. Barbicide
You know that small blue liquid-filled container you see on barber's counters? hat's Barbicide—a sanitizing liquid for hair styling tools.
Want to know how to clean clipper blades at home In a glass cup or bowl, combine 1 fl oz (30 mL) Barbicide with 16 fl oz (470 mL) water to sterilize and clean your blades. Allow at least 10 minutes for your blades to soak.
When you're finished, rinse the clipper blades under water. This will properly clean and sanitize them.
D. Alcohol
You may do it at home by soaking your blades in 70% isopropyl alcohol. Grab a cup, fill it up enough with water, then submerge your blades for a minute or so. When you're through, pull them out and rinse them to remove any leftover hair or alcohol residue.
You can also put some alcohol in a cap, turn on the clippers, and dip the blade tips into the alcohol. The hair will quickly slide off into the liquid (2).
E. Vinegar
You can also sanitize and disinfect your home with distilled white vinegar. Fill a cup with distilled white vinegar and soak your blade for about 30 seconds.
After that, pull it out and rinse it with water. Then pat it dry with a cloth. And now you have a sanitary and clean clipper blade! To remove any hair stuck to your blades, run the clipper into a small bowl of vinegar.
F. Clipper Spray
Clipper spray refers to any cleaning and cooling agent made specifically for your clippers. They remove excess hair and oil from the blade while also helping with heat dissipation.
If you're in a rush, sprinkle the blades with clipper cooling spray and wipe them down. Clipper cleaning sprays keep the blade cool while cleaning and sanitizing over extended use.
Turn on the clippers, step back a few inches, and spray a small layer of the spray on the blade. Allow the blades to run for a few moments. Then turn off the clippers and wipe away any remaining spray (3).
G. Bleach
Clippers can be disinfected with a 1:10 solution of bleach and water. Fill a small cup or bowl with bleach and 2 cups (475 mL) of water. Submerge your clipper blades for at least 10 minutes after removing them.
Remove the blades and rinse them completely under cool water before wiping them dry with a clean cloth when you're done.
H. All-in-One Cleaner
There are professional "all-in-one" cleaners that sterilize and disinfect. Pick up a professional clipper cleaner if you want to clean, cool, sanitize, and disinfect at the same time. You may either soak the blade for a few minutes or give it a quick wipe clean and you're ready to go!
I. Compressed Air
Hit your blades with canned air if they're sterilized but collecting dust. Grab some compressed air if you don't need to clean the blades or anything, but your blades are clogged with hair.
To blow the excess hair away, hold the blade over a garbage can and spray it with air in short bursts.
For more details, watch this video below of how to clean clippers at home.
---
How to Clean Clippers at Home FAQ
---
To Wrap Up
It's important to give your clippers the right level of care and maintenance to ensure they do their job as well as you do. You can keep them in a good condition by following the methods above.
If you have any comments or questions about how to clean clippers at home, please drop them below.