Published by Bassam Mohammed on February 26, 2023 | Last updated on May 15, 2023
Luxury vinyl flooring is the fastest-growing sector of the residential flooring market, so it's not surprising that homeowners are curious about how to clean COREtec laminate flooring and other luxury vinyl flooring.
Cleaning a COREtec floor is similar to cleaning other types of flooring, but there are a few things to keep in mind. If not, your ignorance could result in costly damage. So learn how to clean COREtec floors by following in our footsteps.
In this CleanersAdvisors article I will be guiding you through the full maintenance process to keep clean COREtec laminate flooring throughout the year.
---
What Is COREtec Flooring
COREtec is Luxury Vinyl Tile LVT can be made in the form of planks or tiles that may be laid down in a tile-like fasion. The manufacturing process is innovative since it produces a high-quality, waterproof, and simple-to-install imitation of wood.
Vinyl planks from COREtec floors are lovely and simple to maintain and have all the aesthetic benefits of hardwood floors. Although COREtec materials are simple to install, they also require some time and work to maintain the surface.
You must adhere to a few straightforward actions in order to maintain the cleanliness of your COREtec Laminate Flooring. With said procedures it's possible to keep the flooring in your home looking fresh for years.
The COREtec boasts an amazing variety of design options, including Fascination Oak, Divergence Oak, Distinction Ipe, and Accolade Oak. Additionally, they offer numerous product varieties.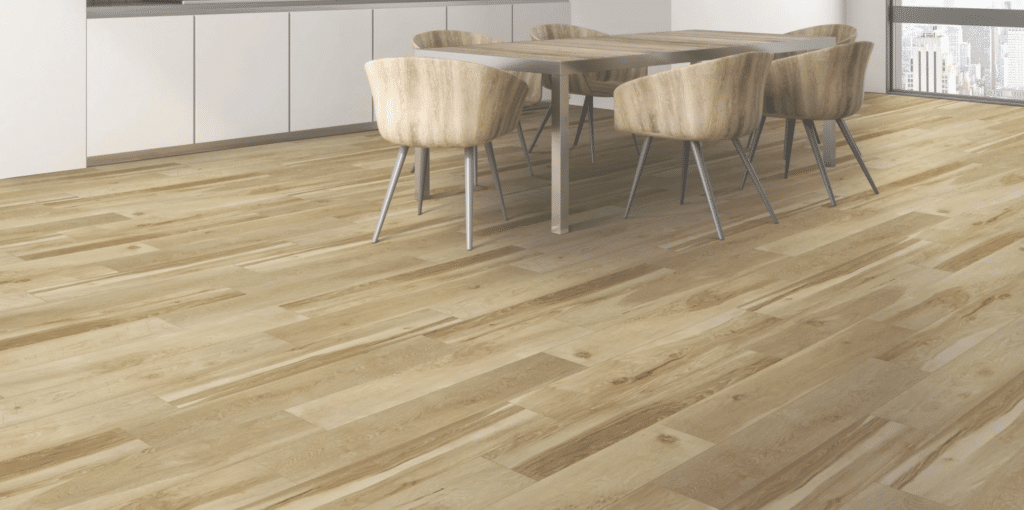 ---
After Installation Steps
Protect the sealed seams and keep them unaltered for at least 16 hours following the seam sealer application to ensure that your COREtec flooring receives a proper seam bond.
Before the grout and glue have had enough time to dry, don't place any furniture on the floor. All other vinyl flooring require at least 24 hours, whereas grouted vinyl floors require 48 hours.
To avoid tearing or damaging floors, use extreme caution while moving furniture and appliances that are heavy. Use plywood or hardboard panel strips and spread them out on the floor. Next, slide, roll, or stroll the item of furniture or equipment across the boards.
Use cool water and a neutral pH cleaner (Hilway Direct – Neutral Cleaner) that has been adequately diluted to clean the floor. And make sure to follow the instructions on the label.
---
Elephant In the Room: How to Clean COREtec Laminate Flooring
Routine Sweeping
One of the most crucial tasks needed to maintain clean COREtec flooring is sweeping. Cleaning your floors with a broom on a regular basis will maintain them neat and tidy even if it is a somewhat laborious task to complete.
Be warned that using a broom alone won't be sufficient. Additionally, you must mop the floor.
Routine Mopping
The next step is to sweep your COREtec flooring using a dry mop to gather all the dust, filth, and grit that your broom wasn't able to pick up. Don't overlook difficult-to-reach places like corners and underneath the furniture.
It's crucial that you get this step right before moving on to the wet cleaning procedure.
Making sure you use a mop that is made specifically for vinyl floors and is non-abrasive is essential for getting the job done. Your flooring may become damaged by abrasive mops by causing minute scratches that will only deepen with time. Vinyl flooring typically responds best to microfiber mops.
Additionally, treated dust mops should be avoided because they could harm your vinyl floors.
You can always use a standard vacuum cleaner to save some time.
Routine Wet Cleaning
We've reached the crucial phase of cleaning COREtec flooring. There are several ways to accomplish this, but each involves the use of a non-abrasive mop. Please remember that you shouldn't steam mop vinyl flooring.
The vinyl flooring is somewhat susceptible to heat and moisture because of the small crevices between the planks. Steam mops' primary ingredients are heat and moisture, therefore you should avoid using them because they could damage your floors by removing the glue holding the flooring's layers together.
We advise you to use a pH-neutral cleaner, which you will diluted in cool water first. Spray cleaners that are made expressly to leave no residue behind after cleaning are also available.
There are several products available on the market that are designed to be used only on vinyl flooring, so you may experiment and choose the one that produces the best results for you.
You can use apple cider vinegar to make a homemade version if you want to. It is a very effective cleaning solution that will do wonders for keeping your COREtec flooring clean and smelling fresh like new.
Simply add a cup of apple cider vinegar to a gallon of water. The filth can be completely removed from the flooring by using a mop to wipe over it directly.
This is so that the acid in apple cider vinegar may clean effectively while still being gentle enough not to harm the floors.
The scent won't last long once the floors are dry, so don't let it bother you. A tiny bit of jojoba oil can be added to the mixture to partially mask the smell.
Baking soda is a fantastic alternative, particularly if some areas of your vinyl flooring are stained. It will work wonders to remove stains from your vinyl flooring when you combine it with enough water to make a paste.
And keep in mind that you'll have to apply it with a gentle cloth
Frequent Polishing
It's time for yet another crucial routine once you've finished meticulously and thoroughly cleaning COREtec flooring.
The floors can be cleaned to make them appear organized, but polishing is what gives them their sheen.
Particularly if they experience moderate usage on a daily basis, vinyl flooring have a tendency to lose their original luster and gloss.
You may safeguard your vinyl flooring from additional deterioration for a full year by using a high-quality floor polish made especially for vinyl flooring.
---
Extra Steps to Maintain Clean COREtec Laminate Flooring
Avoid direct sunlight
Since COREtec is not made entirely of wood, too much sunlight can harm the surface as well as the color of the flooring. Watch out for any areas of the floor that the sun has damaged. When the window is larger, use a curtain to block the sun's direct rays. That could be a remedy.
Scratches can be a major problem.
Basically, it takes place when you shift things from one location to another. A significant factor may be the use of large cleaning instruments. The most crucial rule is to avoid wearing shoes inside the house (soft warmer shoes are ok). Aside from that, scratches are not particularly visible on the COREtec floor.
When approaching a scratch on the floor, don't attempt to wash over it infinitely. I'd advise simply purchase a scratch-removing pencil or other comparable item. Avoid attempting to paint over the area by yourself
---
How To Clean COREtec Laminate Flooring FAQ
---
To Wrap Up
COREtec laminate flooring is special in its own way, and deciding to install it has its own tell on how special it can be.
Therefore, this guide had a single goal of helping you master How To Clean COREtec Laminate Flooring efficiently, so you won't need additional help maintaining it alone.
Moreover, if you needed any help with knowing How To Clean COREtec Laminate Flooring, ask us in the comments section below, and we'll be ready with answers ASAP.
Additionally, COREtec have even compiled a list of the most compatible cleaning kit with their flooring, to help you decide which tools you'll need in your cleaning, here's a video explaining that: